8/19/2004
Today's Motivational Prod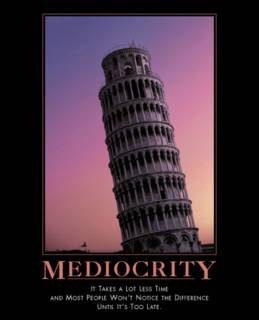 I always wanted to be a motivational speaker. But I just couldn't be bothered...
For those of you having a hard time reading the caption, it's
"MEDIOCRITY - it takes a lot less time and most people won't notice the difference until it's too late"
it's from http://www.despair.com/ - it's in the Classic Collection...
Here's a newer one, appropriate given the ongoing family values debate...
http://www.despair.com/demotivators/nepotism.html